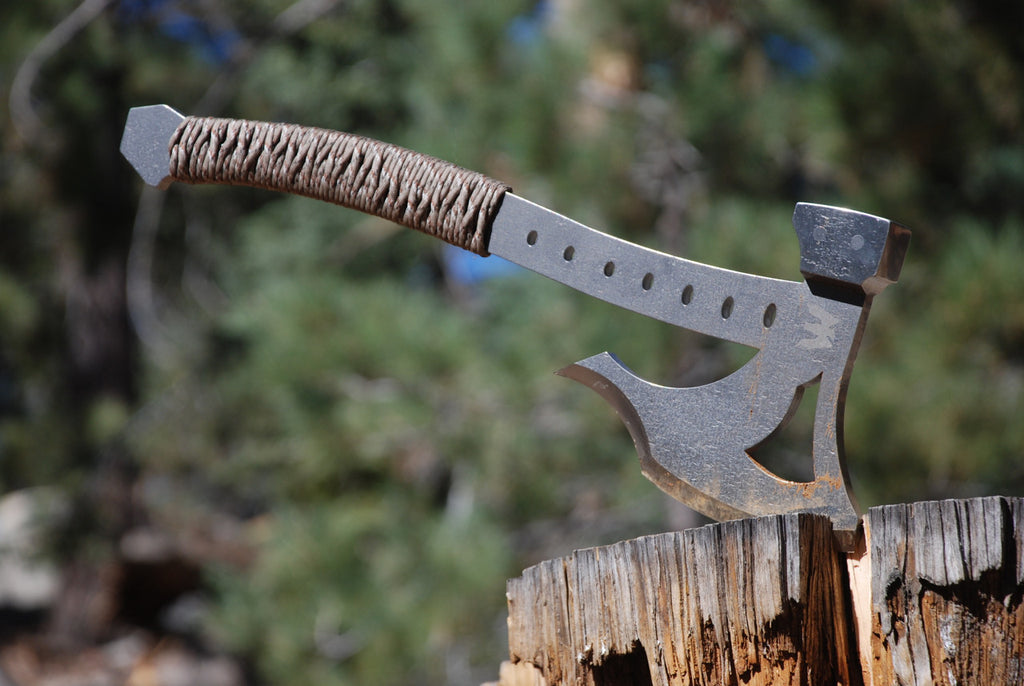 BAHA™ Hammer Axe
$ 1,000.00
After nearly 9 months of R&D and extensive field testing, we bring you the BAHA™ Hammer Axe. At just over 20" in overall length, and weighing in at just over 3.3 lbs, the BAHA has the heft and leverage necessary to chop, break, or bash just about anything you put in front of it. Like all of our hawks and axes, the BAHA is made from a solid piece of 6Al-4V Titanium, with a deeply impregnated tungsten carbide edge using our proprietary carbonizing method. We use extra thick 0.40" titanium plate for added weight and splitting ability. On the hammer end, we triple up the plate using a total of 4 titanium hidden bolts, in alternating orientation so each bolted on section has 2 strong sides.
Our first production run will be offered exclusively in cord wrapped handles.  
Specs:
OAL: 20.1"

Blade length: 8.0"

Weight: 54. oz

Material: 6Al-4V Titanium

Thickness: 0.4"

Hammer Face Dimensions: 2.27" H x 1.2" W

Handle: Paracord, or ITS SereCord

Edge: Deeply Impregnated Tungsten Carbide, at RC 72

Features: Bearded blade, XL Hammer.
Related Products